PET bottle bale opener. For PET bottles and PET packaging material.
Recycling of PET bottles is important. Our machine has a breakdown degree of approximately 96%. And the PET bales are loosened entirely without damaging the PET bottles. The bottles exits the machine one by one.
Highly suitable for opening bales with PET bottles
The PET bale opener has slow-turning screws and the machine opens even hard, compressed PET bales, whether large or small.
Degree of breakdown approximately 96%. This facilitates the subsequent sorting by colour as well as control of the flow throughout the remaining process. The PET machine from ACA is incredibly flexible in terms of the size of input bales it can handle.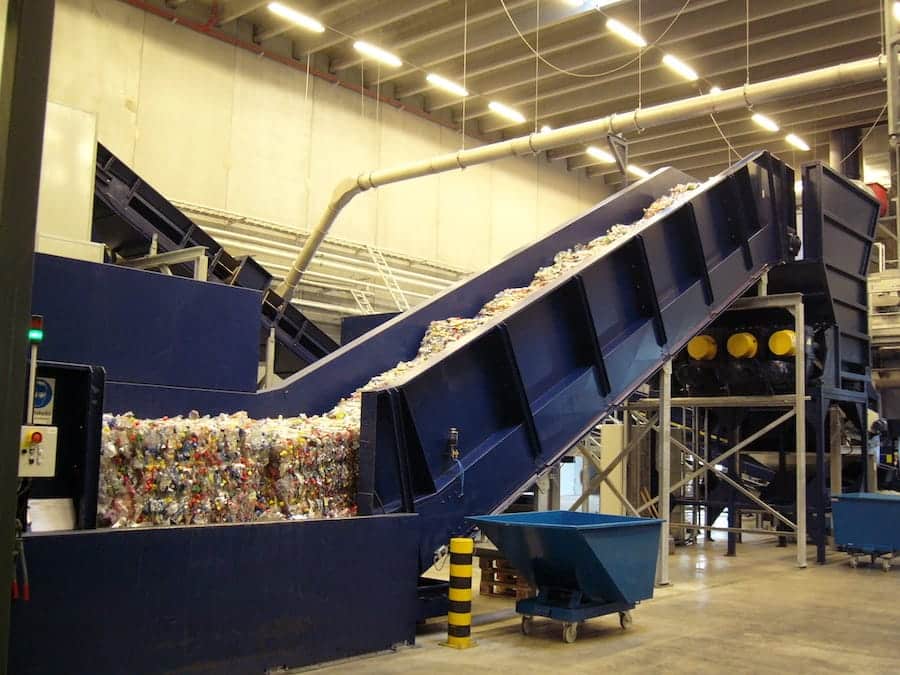 Machine for opening of bales with PET bottles
How big and heavy are the bale openers?
All bale openers are made of iron. A bale opener with six screws weighs 5 tons and machines are made up to 24 tons. 
In the production the machines are welded, constructed and very precisely built.
Bale breaker for PET bales and briquettes
The ACA machine is very flexible. It is fitted with a large 2 m3 to 20 m3 hopper for loading the PET bales into the machine using either a conveyor belt or a Truck. The machine can be loaded from all four sides. The hopper is adjusted in accordance with the customer's wishes.
Tailor-made hopper
The hopper is adjusted in accordance with the customer's wishes. The material can be loaded into the bale opener from all four sides.
Choose the number of screws you need in your PET machine
The PET machine comes in different versions. We can supply you with standard sizes with 2, 3, 4, 6, 8 or 10 screws. Which is depending on your desired capacity.
How are the machine screws built?
A six-screw bale opener has one control. All screws are built, so that they can run 100% individually. This is a unique advantage of ACA's bale opener machines and prevents the entire machine from stopping, if foreign material enters the machine.
Send us an e-mail and we will tell you what makes our bale crushers so unique!
Call now and let us tell why our bale openers and crushers are unique!
Recycling of PET bales one by one
Slow-turning screws ensures that the PET bottles are loosened entirely and exiting one by one without being damaged. Approximately with a breakdown of 96%.
Slow-turning machine
The ACA bale opener is a slow-turning machine operating at 15 RPM per minute with a torque of 13,000 newton metres per screw, even at this low number of revolutions.
How powerful is a machine?
Torque or talc describes how many forces available in the machine and how powerful it is, just as horsepower for a car. The torque is measured in newton meters (Nm). 
In order to understand and compare the torque, a typical car is often equipped with 500 newton meters or horsepower. 
Compared to that, ACA's bale openers have 13,000 Nm, which means that our machines have powers equivalent to 26 cars. However, the 26 are per screw, which makes it possible to loosen even hard-pressed bales, by this enormously powerful twist. The screws twist against each other with enormous force and open the bales up without destroying them.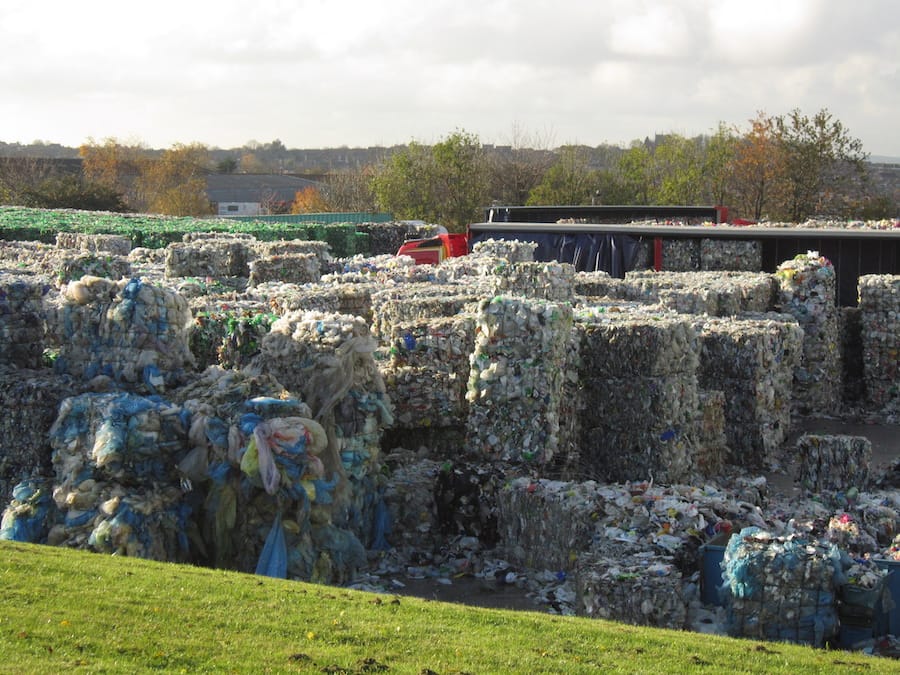 Bales with PET bottles; both hard-pressed bales and loose-pressed bales
Effective for PET bales and briquettes
The machine produces an even flow of output. This makes it much easier to sort the material afterwards and optimise production.
Sorting by colour and material type
The subsequent sorting by colour and type of material becomes easy, as does the flow control throughout the remaining process.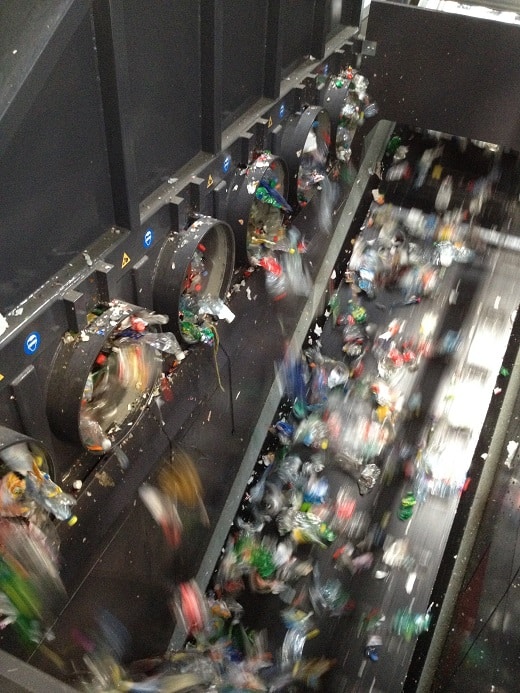 Hard-pressed bales with PET bottles. Even hard-pressed bales with PET bottles can be loosened/opened by the ACA machine
Cheap in operation
The machine's movable parts do not touch each other, guaranteeing a long useful life of the parts, as it is the PET bottles that are crushed against each other, thereby becoming separated.
Flow control in the company
The ACA machine can be fitted with a control that makes it easy to better control the flow throughout the sorting process. The bottles exit one by one – and in one piece. Degree of breakdown approximately 96%.
Keeping on after foreign material contact
Often our machines run 24/7 at a customer, without having to be disturbed and drive to check the machine. If a machine has been in contact with a foreign material, the alarm will go off. 
The screw that is in contact with the foreign material, will stop while the other screws run up in revolutions and ensure that the same capacity is maintained. This makes it possible to see what is in the machine the next day. 
When the foreign object is out of the bale opener, simply press reset and the machine runs as normal again. It makes it easy to monitor the machine and also ACA does not need to be involved, as it is easy to maintain and ensure normal operation of the machine.
Strong machine
With a weight of up to 20 tonnes, a torque of 13,000 newton metres and reverse operation in the event of excess current, breakdown of the machine can be avoided, and many years of useful life and safe, reliable operation in the company is assured.
How does the machine reserve overload?
If you have a machine that is used for plastic bottles, you can be unlucky to be delivered a bale (approx. 1 cubic meter in size), which not only contains plastic bottles but instead, for example, small pieces of iron. The bale opener now opens the bale and the iron gets stuck in the machine. 
Instead of destroying the bale opener, it takes half a second, then the one screw that meets a foreign material automatically runs backwards. After that, it tries again three times in one minute, then the screw fully stops. The other screws in the bale opener continue and ensure that the machine won't be damaged.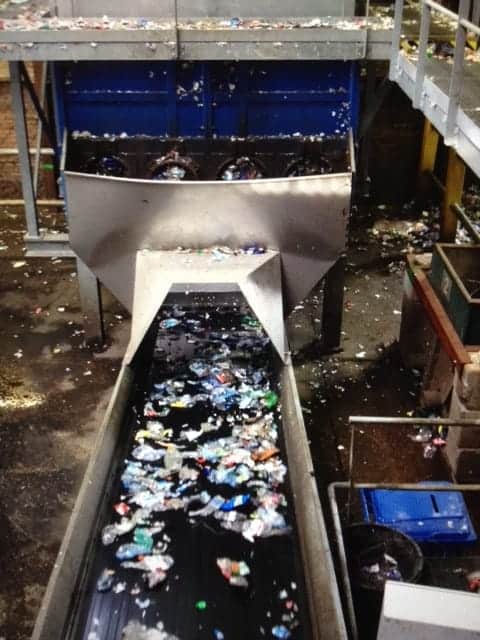 Degree of breakdown of PET bottles approximately 96%. The bottles exit one by one
Bale breaker for opening bales with PET packaging material
The environmental challenges we are facing today are greater than ever before in the history of our planet. It is therefore extremely important for all of us that we pay attention to the environment and start thinking about how we can best protect the earth's limited resources.
One of the materials that are most harmful to the environment and affects exposed ecosystems most is no doubt PET.
It is estimated that between 1.1 and 8.8 million tonnes of plastic waste end up in the world's oceans every year. The consequences for the environment are therefore substantial and should not be ignored; instead we should endeavour to mitigate them as much as possible.
There are different ways to reduce the amount of plastic waste, but the introduction of measures that facilitate plastic recycling is probably one of the most effective.
The annual production of plastic is roughly 380 million tonnes, and if we are to avoid causing immense damage to the environment, it is important to look at the possibilities for recycling.
Support 24/7
We provide support 24/7, so we are always easy to get hold of. Don't hesitate to call us if you have a problem. We'll find a solution to your problem, so you can move on.
Would you like us to give you a call?